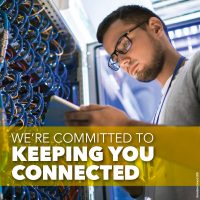 Customer Care: Our front offices remain closed to the public. If you need assistance, please contact us via phone 269-521-7300 Monday through Friday 8:00a-4:30p.
Premise Technician Visits: We have resumed in-home installations and repairs. We require our technicians to wear PPE during the entire visit, and we ask our customers do the same. Also, it is imperative to our technician's safety and yours that the 6 Foot Social Distance standard is always maintained.
Wi-Fi Hotspot Locations: Visit our website for a complete list of Wi-Fi hotspot locations throughout Van Buren County https://bloomingdalecom.com/were-offering-free-public-wi-fi/
Resources: Bloomingdale Communications took the Keep Americans Connected pledge on March 13, 2020. The pledge says that Bloomingdale Communications will not disconnect phone and/or internet due to a business or residential consumers inability to pay. The pledge also states that we will not bill our customers late fees during the pandemic. We have stood by this pledge, however, if you are unable to pay your bill due to financial hardship caused by COVID-19, please contact our Customer Care Team to discuss payment arrangements or service modifications.
We are all in this together. In an attempt to acclimate to this "new normal", we are constantly evaluating our business practices. But one thing remains, our number one priority is maintaining a high level of customer service.